The Best Offer/ La Migliore Offerta (2013, Italy) is an intelligent, involving, a bit confusing, but luxurious and full of beautiful works of art romantic crime-drama. It is a long-awaited and definitely not disappointing comeback of Italian director Giuseppe Tornatore after such successful movies as "Nuovo Cinema Paradiso" and "Malèna".
"Living with a woman is like taking part in an auction sale – you never know if yours is going to be the best offer"
An elderly loner Virgil Oldman (act.Geoffrey Rush) is an acknowledged assessor and collector of artworks and a great auctioneer. He can immediately recognize whether a work of art is a forgery or not, in a few minutes he can sell the Galileo's telescope for millions. As a refined and well-read man, he always wears gloves and while speaking by phone he never forgets to wrap it in a handkerchief, just for the sake of good order. He lives in a luxury villa and has there an impressive, secret collection of very expensive paintings, which is available only to him.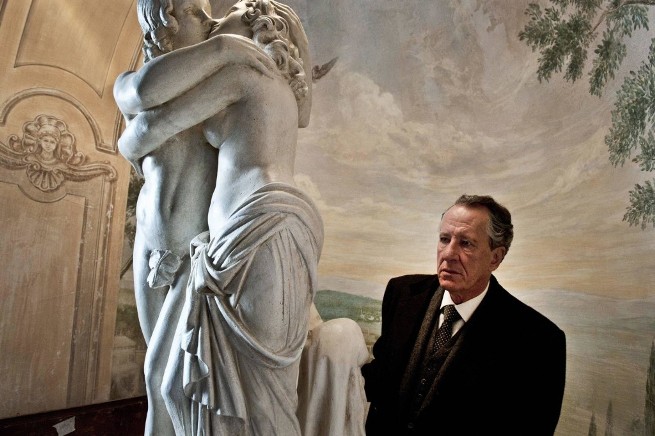 He is wealthy, loving his job, unfortunately, he has never experienced intimacy, friendship and love… A man does not have any real friends, any lover or relatives, he lives a usual life of loner, eats at fancy restaurants alone and his free time Virgil spends in the hiding-place surrounded only by the sumptuous paintings. However, Virgil's life turns upside down, since one day he gets a call from a mysterious woman, Claire Ibbotson (act. Sylvia Hoeks). She asks him to assess and sell the antiques that her family owns. It seems as if Oldman gradually falls in love with this mysterious woman, but will this love be mutual and Virgil will live together with Claire happily ever after?
This movie has won 13 awards. In 58th David di Donatell movie awards "The Best Offer" was acknowledged for being the Best Film, Giuseppe Tornatore won the award of the Best Director, moreover, they received various awards for costumes, sets and decorations, screenplay, for the best composer, etc. The acting of Geoffrey Rush in this crime-drama can be rated with the highest score. The viewers of the movie easily follow the plot and together with the main character they experience and go through his loneliness and solitude, then rejoice and expect Virgil Oldman to feel a full-fledged person, hope he finally gets to know what friendship, love and joy are all about.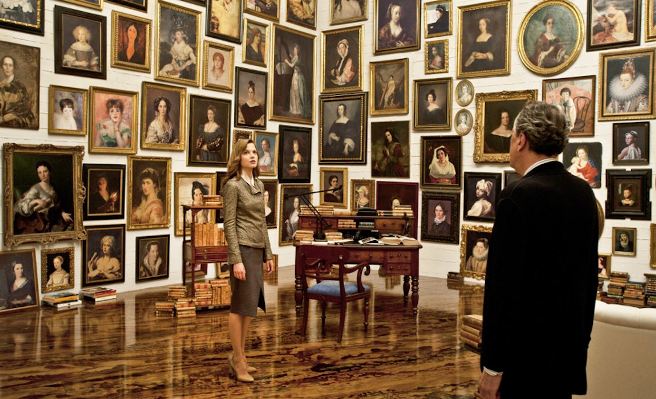 The acting of the beautiful Claire Ibbotson (act. Sylvia Hoeks) is also not that bad, the viewer is convinced that she really suffers from agoraphobia and she has not left her home since adolescence. For this reason, people feel pity and compassion for this character. Thanks to Virgil's adviser, mechanic Robert (act. Jim Strugess) that we understand what is really going on in his mind. For this young man Virgil tells about Clair. As Virgil himself has not the slightest experience with women, he listens to Robert's advice that may help him get Clair, the woman of his dreams. All of these characters cause positive thoughts and feelings, the viewer feels the compassion for them due to their lives that appear to be not very successful. The action takes place in the North-East Italy, Vienna, Prague and South Tyrol, therefore, the movie is full of breathtaking views of architecture and picturesque landscape. All the paintings, sculptures and other artworks also attract the attention a lot. Fabio Zamarion is the one who deserves all the praises for the amazing cinematography of this film. The soundtrack, which is created by the composer Ennio Marricone, enriches this movie and makes it even more magnificent.
The plot is not that easily predictable, as a result, the ending is quite unexpected, stunning and making the viewer stop for a minute to think about love, friendship, betrayal, loyalty and other values. Furthermore, those beautiful images, the excellent acting of Geoffrey Rush, cinematography, soundtrack and the scrip that is what made this movie one of the best in 2013, which was well rated by movie critics and viewers as well.